The US Nationals Arabian Horse Show was a first for us and we had a great time.  Held in October at the NM State Fairgrounds, we were able to stay right on the grounds.  This was really good since we didn't have our car with us.  Mom used her scooter to get back and forth to give me a lunch break during the long hours in the booth.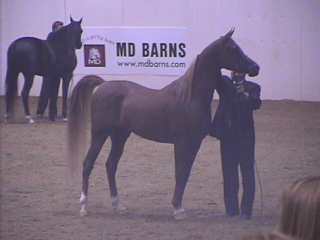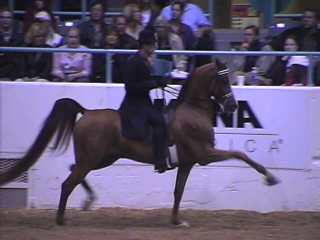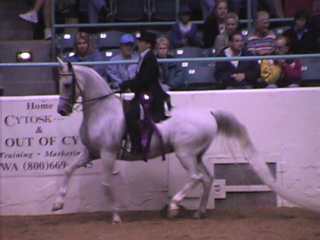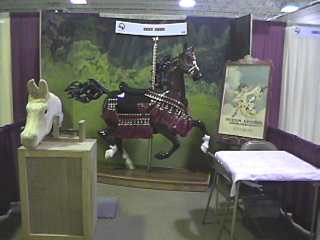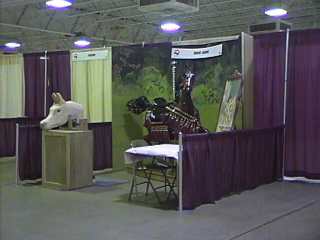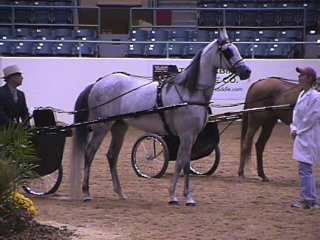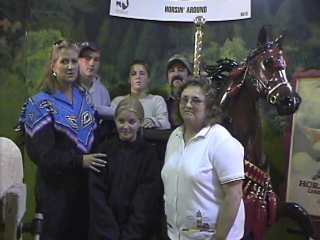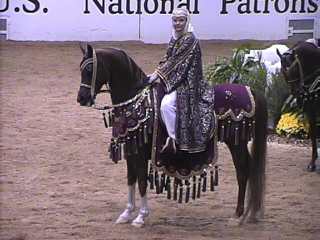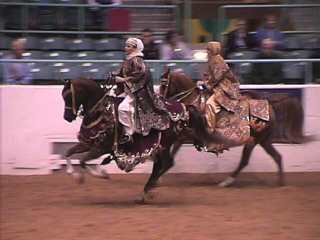 Part of the fun was seeing the classes at our first Arabian Horse show!

I could not have managed without the help of a wonderful family in Albuquerque!  The Garey's bent over backward to help me out and make us feel welcome!  Bill (not pictured) helped me unload the trailer and set up the booth.  The rest of the family watched the booth and gave me some much needed time out.  They also loaned their car so we could run some errands!  Thank God for them.  They they went the extra mile and agreed to keep my horse when the buyer "decided not to go thru with the deal" . Story to follow..........

If you want to hear the story of why Kismet is still in Albuquerque and of the "buyer" that was lined up read on!

A man came by the booth 3 times and appeared very interested in Kismet, though he

"wasn't exactly what he had in mind".  He asked lots of questions and I proposed a commision piece which he was against due to prior problems with commisions.  He was very vocal about how someone had promised him a full size bronze which he put a downpayment of $12,000.  He never saw the finished piece and made a big deal about how he was going to sue these people.  He was concerned that my horse was not stable enough for his drunk friends to climb on.  He also indicated that if he bought the horse he would definately want the head and leg attached.  He didn't want to fool aound with such things.  During these visits, I found out from bystanders that he was Tom Redmond of Wolf Springs Ranch in Colorado.  The surrounding venders had done business with him before and said he was a good guy and had more money than God. 

The 4th time he came by, he said "Since he isn't exactly what I want, I will give you $10.000 for him if you don't sell him by the end of the show."  I hesitated and he said "think about it!  I will pay in cash"  I said OK.  So I figured he was sold!!  I also figured that  anyone else who would buy him here would want the head and leg attached, so I went about that process.  It is not a simple one day proceedure!!  I first glued the head on, waited for several hours for it to dry.  Then applied the Tuf-Carve putty (after show hours since it smells so bad!) and waited till the next morning to sand it and smooth it out.  Over the next 2 days I painted it to match the rest of him and put on several coats of clearcoating.  He was georgeous!!  The end of the show came, but no Mr. Redmond.  Attempts to reach him from his stables were impossible since the people he hires "No speek Eeennglish".  When I finally got ahold of someone who did, they informed me he had just been put on a plane home.  I kept pestering them until they got ahold of him by cell phone and his message was "I have decided not to go through with the deal"  Chris, the guy I talked, to was "so sorry".  Mr. Redmond did not even have the courtesy to tell me to my face. 

The problem I now faced was that Kismet no longer fits in a Uhaul.  He is too tall for the trailors or the trucks.  I could not get him home without cutting off his head again!  Thank God for Mickey and Gretchen Garey who graciously allowed him to stay with them until Scottsdale.  They even were able to borrow a stock trailer tall enough to get him to their home.  I sent Mr. Redmond a letter explaining all of this, but to date have gotten no response.  Needless to say, I have learned some hard lessons.  Nothing is sold till the money is in hand.  Honor is to be earned.  From now on serious offers will be accompanied by deposits!  Our next show is in Scottsdale, AZ Feb 13-22.