Every year in Scottsdale, Arizona just outside of Phoenix, the Arizona Arabian Horse Association (AAHA) puts on the worlds largest Arabian Horse Show at WestWorld.  In 2004 there were over 2000 horses shown in a variety of classes and over 800 vendors.  I was one of the vendors this year!  It was a lot of fun with lots of people!  The people running the show were really great and the Security people were wonderful!  Steve was especially helpful in getting Kismet out of the motorhome before the show and then loaded into the trailer at the end of the show.  My thanks to all the hard workers who made the experience worthwhile!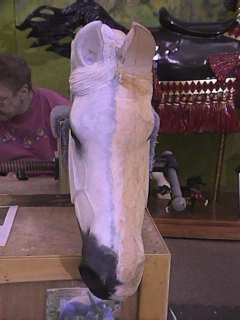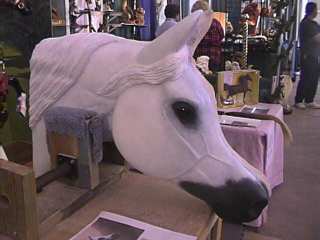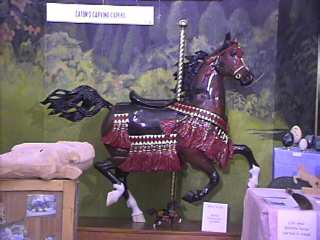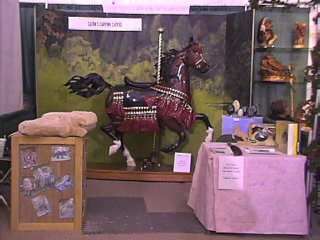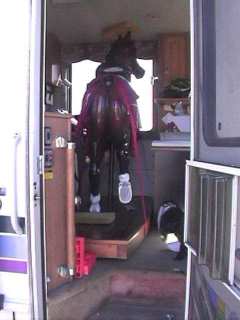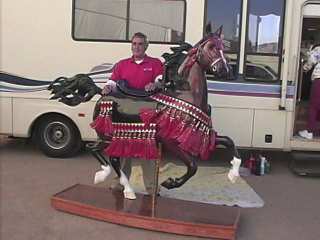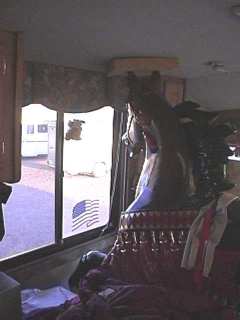 This is Steve.  He rounded up a bunch of guys to help us get Kismet out of the motorhome.  Without them, we would never have made it!

Below is booth #738 in Tent 1.  It is the first appearance of "Caton's Carving Capers"  I had Kismet and some carved eggs for sale, and the Arabian head to carve on that I had started in Albuquerque.

I was itching to try painting the side I had finished, so I did!  I painted it to match the picture I had and then found out it was "Gelgelah AlBadeia" and I was told she was World Champion Mare in 2003.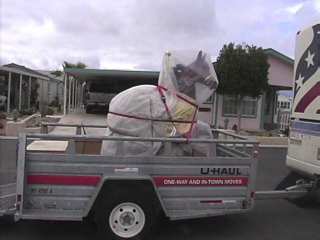 I was very fortunate to meet up with a friend from Hawaii!  Jill moved to Mesa, AZ about 2 years ago.  We got to catch up with each other as we had not seen one another for 7 years!  She does photography for a hobby, and got some great shots of Kismet!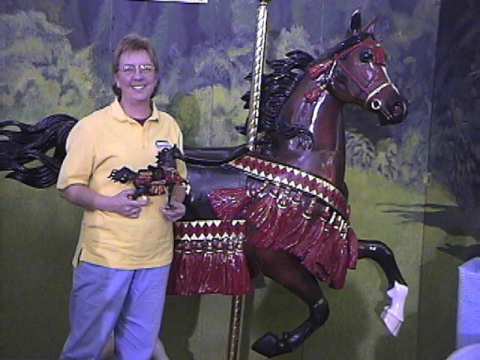 One of the highlights of the show for me, was meeting Kathleen Moody.  Kathleen sculpted the Breyer Huckleberry Bey that I used as a model for Kismet.  She came to the show to sign some Breyer horses (yes my model is now signed!) and I told her about Kismet.  She came to the booth and I was able to talk to her and get her picture!  She is a real down to earth person and easy to talk to!  Thanks Kathleen!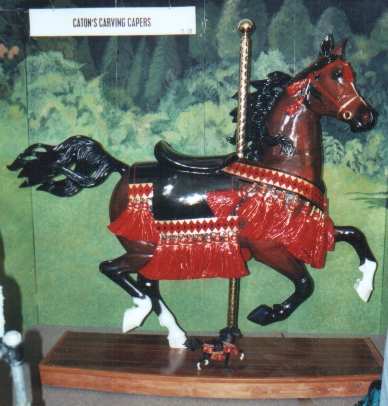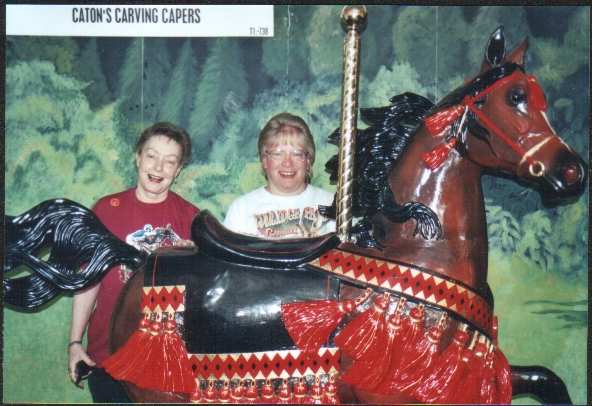 The show drew to a close and Kismet was still in my posession.  The weather was beautiful throughout the show, and started pouring when we needed to move.  From the time I picked up the trailer until we dropped him off at his new temporary home, there was not one drop of rain.  Thank you Lord!!  Our friends in Apache Junction were very happy to keep him until we get a house that he can stay in.  I am very grateful to Bill and Shar Gregg for babysitting him!  They are the second family of horse sitters.  The Gareys watched him in Albuquerque between the Nationals and Scottsdale! Thanks so much!!