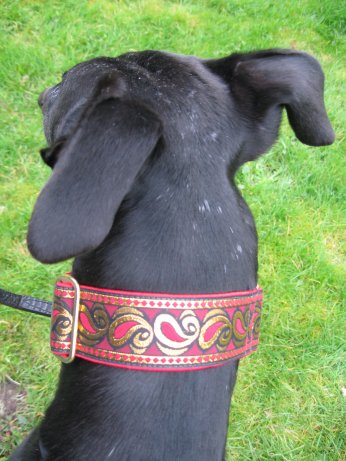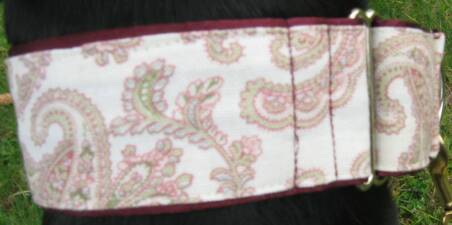 Caton's Capers

Collar Capers

We are just beginning this venture, so please bear with us as the web site gets ramped up!  Pictures will be coming as fast as we can get them up.  More collars are in the works!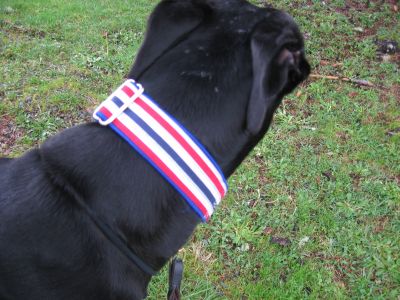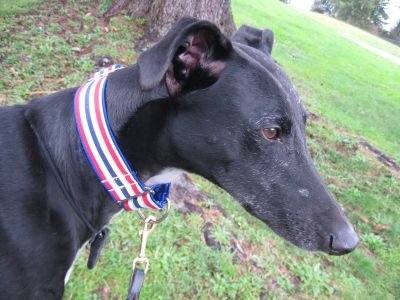 Patriotic Stripe!  Shown here wrapped in indigo satin with nickel hardware, this striking collar is also available with red satin.  Brass hardware available as well.  Pictured in 1.5 inch, also available in 2 inch.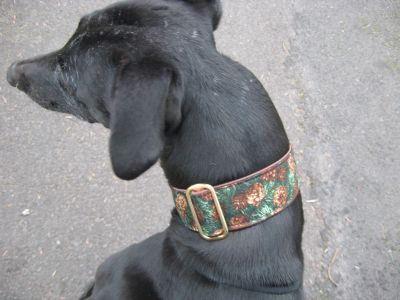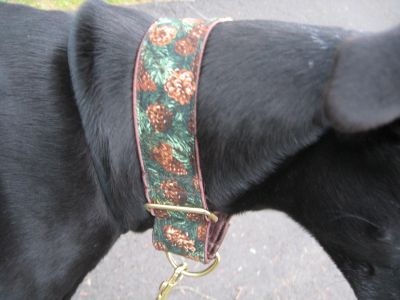 This collar is the one that started this whole shebang.  I found this fabric, with pinecones just floating on a bed of pine boughs in a very 3D effect, and thought what a great collar it would make.  And here we are!

Both 1.5 and 2 inch collars start at $20.00 with nickle hardware.  Brass hardware is an additional $4.00 .  Collars fit 12 to 18 " necks and can be made to order.  If you prefer a buckle be added, this can be done.  Swarovski crystals can be added to most any collar for an additional charge.  

Collars are wrapped in satin to protect the sensitive necks of the greyhounds and for the lovely appearence it provides.  Because of this, and because of the martingale (choking) effect, these collars should not be left on unattended dogs.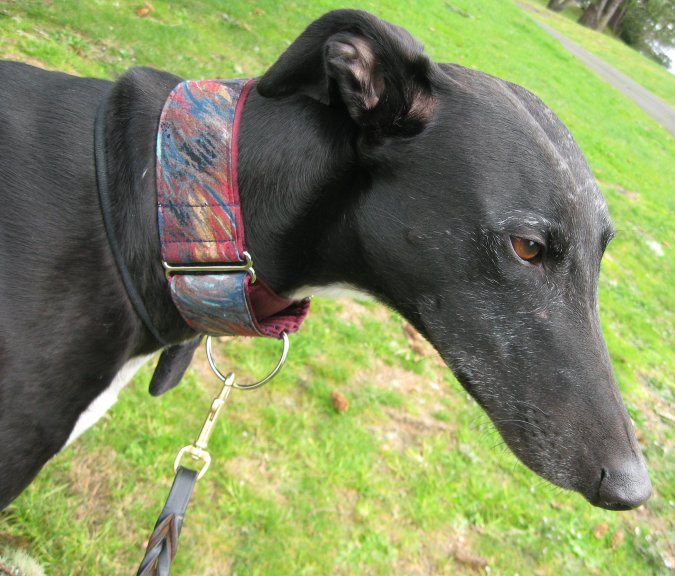 This is the Pheasant Feathers collar!  I just love the multitude of colors!  Burgandy, blue, yellow, Aqua, lined in a rich Burgandy satin.  Pictured in 2 inch on Theo, 1.5 inch by itself.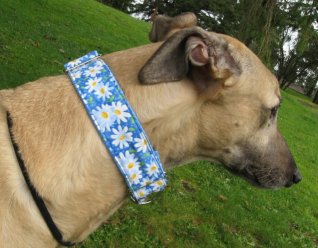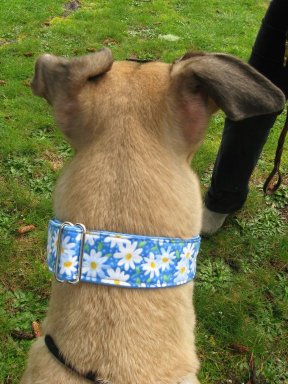 Daisy Doodle  is a fresh, happy collar just in time for spring!  Wrapped in a pretty matching blue satin.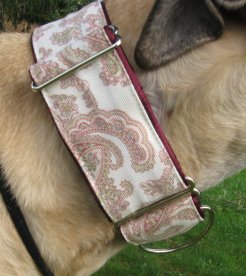 Sweet Paisley is a dainty pink/burgandy/green paisley on light canvas that just makes you want to cuddle!  Done in burgandy satin, it will be coming in blue satin as well.  It works with so many colors!  Shown in 2"  Look for a matching coat to come soon!!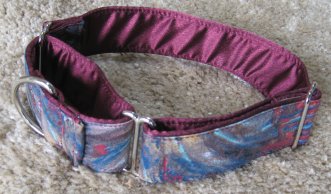 Bartholomew  This is a rich red Jacquard ribbon with lots of gold metallic thread.  The richness does not show up well.  It is so beautiful!!  Despite the name, no reason the girls cannot wear this one as well!  Wrapped in royal red satin.  Available only in 1.5 inch.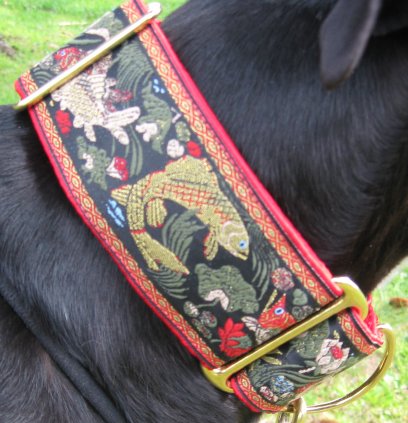 Koi Pond  A stunning metallic underwater tapestry!  Four aquatic scenes with different fish.  Rich with red, yellow, green, and blue, with lots of gold metallic thread all through it.  This collar sparkles and dances with color!  Wrapped in matching red satin.  Available only in 2". 

Sweet Caroline - Blue   A beautiful blue garden of flowers and paisley wrapped in fuschia satin.   Shown here in 1.5.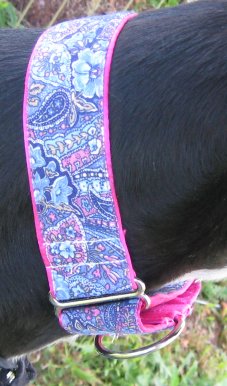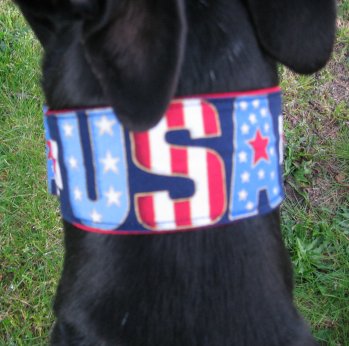 USA  This collar is strikng in person.  It stands out and is very patriotic!  We very carefully place the pattern to make sure that the USA comes out on top.  Wrapped in matching red satin, this collar is a knockout.    Only available in 2"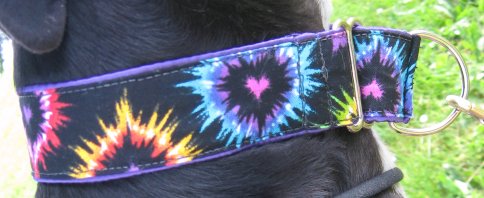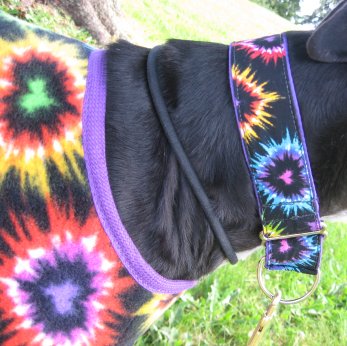 Heart My Hound - Now has a beautiful matching collar!!  This one is wrapped in purple flannel-back satin to match the purple trim on the Heart My Hound fleece coat.  What a fantastic combination!  They look great together! 

Shown here in 1.5".